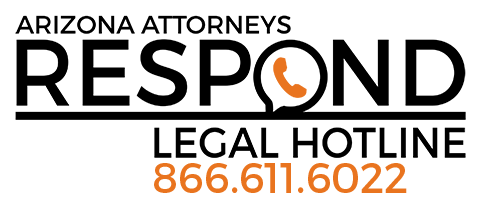 Arizona Attorneys Respond: Legal Hotline is your FREE resource for getting legal help during the COVID-19 global pandemic. If you have legal issues stemming from COVID-19, the FREE statewide hotline could provide the legal information you need.
How does the hotline work?
Before you call, your legal issue must be a direct result from COVID-19.
Be prepared to answer a few questions about you and your legal issue.
You'll speak to an information operator who will help you get your legal questions answered.
Need more help? Ask to get a free 30-minute legal consultation with a lawyer.
Multilanguage line, including English and Spanish, is available.
What types of legal issues can you ask for help with?
Consumer/Finance
Court Processes and Procedures During COVID-19
Domestic Violence
Employment
Family
Housing - Mortgage & Landlord Tenant
Order of Protection
Public Benefits
Small Business
Unemployment Benefits/Insurance
Hotline Hours: Tuesdays and Thursdays, 12 to 3 p.m.
Additional Resources
The Arizona Attorneys Respond: Legal Hotline is made possible through a partnership between the State Bar of Arizona and the Arizona Bar Foundation with support from the Arizona Supreme Court, Arizona Office of the Governor, legal services organizations, and county bar associations.
Arizona Bar Foundation | Governor's Office | Arizona Supreme Court's Administrative Office of the Courts
Coconino County Bar Association | Maricopa County Bar Association
Pima County Bar Association and Foundation
Yavapai County Bar Association | Arizona Legal Center | Southern Arizona Legal Aid 
Community Legal Services | DNA People's Legal Services 
---