Certified Specialists & Experienced Mediators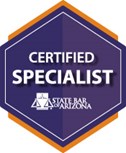 For those areas of law that sometimes rely on alternative dispute resolution or mediated settlement conferences to resolve cases, why not choose an attorney that is also a Board Certified Specialist in the  field?
We apologize for the inconvenience and are updating this area. Thank you for your cooperation. 
Bankruptcy Law
Family Law
Personal Injury Wrongful Death Law
Real Estate Law
---